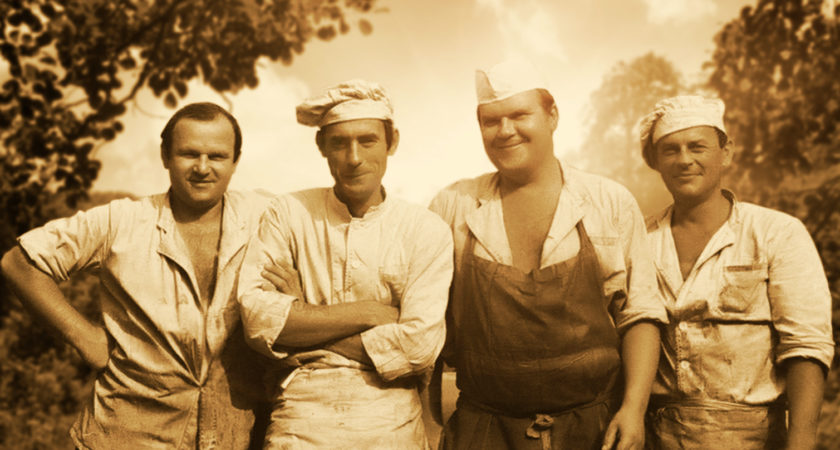 About company
Thanks to the knowledge and inventiveness of our technologists, original and constantly enriched recipes are created.
Lukullus Limited Liability Company. A limited partnership, with its headquarters in Leoncin, in the buffer zone of the picturesque Kampinos Forest near Warsaw, boasts a few-generational tradition of high quality cured meats dating back to 1945.
We pride ourselves on the reputation of a leading manufacturer of original, unique meat products that we create based on knowledge, passion and decades of experience in the processing of pork ham meat and poultry fillet. Our main goal is to constantly improve the quality of our products and create innovative, original technological solutions.
The company's management board coordinates the stages described below, and ensures that the company fulfils its mission.
Creating flavours
Our products are made from selected ham and poultry fillets, in accordance with a strict technological system. The unique taste of these products is down to the original, refined recipes, enriched with natural compositions of spices and flavours.
The production process
The technologically advanced production process, based on high-quality fresh ingredients, is adapted to meet European Union standards. We achieve the highest standards of production by implementing GHP/GMP principles, as well as those of the HACCP system and IFS and BRC standards, as basic tools for ensuring food safety.

At the same time, the fact that we are located next to Kampinos National Park obliges us to take particular care of the natural environment.
Building a brand
Innovative marketing confirms the good reputation of our company as a producer of high-quality cured meats, suiting the needs and tastes of even the most demanding customers.
Sales and distribution
We cannot fail to mention the experience of our sales team, which ensures the presence of Lukullus products throughout Poland and in the leading countries of the European Union – Germany, the UK, France and the Netherlands. Our major customers include the largest distributors and store chains in the country.
The mission of Lukullus:
Our mission is best expressed in the following quote:
"Professionalism is never a work of chance. Passion gives birth to professionalism, professionalism gives quality, and quality is a luxury in life – in today's times especially.
In this spirit, we strive daily to create original cold meats, taking care of every stage of their creation and production, and putting in much effort and energy every day so as to supply you with products of reliable, declared quality. Our chief aim is to provide customers with a rich taste experience and products with a high meat content. All of our products are made with the greatest possible care, with the final consumer in mind.
The quality of the Lukullus company:
From the start, our aim has been to create a unique, exceptional taste experience for consumers of our products, while ensuring that our food is always safe and healthy. For this purpose we use a number of innovative technological solutions and implement a rigorous quality management system, consisting of:
GHP/GMP and HACCP systems introduced in 2003.
A certified IFS system introduced in 2007.
A certified BRC system introduced in 2015.
Also, since 2003 the company has been entered on the General Veterinary Inspectorate's list of producers permitted to trade with the EU.
It is particularly important to us that our products are made from the highest class of selected pork and poultry meat. The great majority of our meat is class S or E; we occasionally use class R. We do not use other classes of meat in our production.
In obtaining ingredients, we choose the best domestic suppliers, whose quality is verified in annual audits carried out by Lukullus' quality and purchasing department. Ingredients supplied to the factory are further evaluated by our ingredients classification department.
Taking special care to supply products of the declared quality to our commercial partners, we implement an internal quality policy consisting of:
monitoring of current production batches
organoleptic evaluation of every production batch
an internal quality protocol for closed production orders
The whole of the production process is overseen by a highly qualified team of process engineers, who continuously monitor the most important production indicators.